About Us
Stops & Shops
Photos & Video

Visit the Turquoise Trail online with our photo and video galleries
View Photos »
View Videos »
Partners







NM Public Lands Info Center
NM Vacation Guide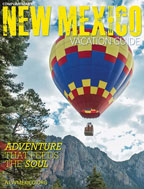 In The News
Madrid gets old-time soda fountain back
October 02, 2008
By Kate Mcgraw, For the Albuquerque Journal

MADRID — Do you know what a black-and-white is?

No, not a police car. We're talking old-fashion soda fountain treats here.

If you're from "back East" (and of a certain age), a black-and-white is probably a chocolate ice cream soda made with vanilla ice cream, chocolate syrup and seltzer. But as you move further west, a black-and-white is more likely to be a chocolate milkshake made with vanilla ice cream and chocolate syrup and milk.

That's why when you ask for an old confection from Madrid's reopened soda fountain, supervisor Bill Fenstermaker's first question is, "Where are you from?" Because how he makes the sundae/soda/malted will depend on your answer.

There are few things more disappointing than having your nostalgia served up according to someone else's recipe.

"We have an old, copyright 1911 book of soda fountain treats," owner-proprietor Jezebel (no last name, thank you) told the Journal. "It's amazing how many different ways you can make each one."

Return of a tradition
Finally, the Madrid soda fountain, now the Jezebel Soda Fountain, is back in business in the former mining village 30 minutes south of Santa Fe on N.M. 14.

When the 1880s-era Boardwalk Building sold a few years ago, it meant the end of the 80-year-old traditional fountain that coursed the north-side wall of Unit B. Fortunately, the soda bar and stools (and '50s-era multicup milkshake blender) were stored.

When Jezebel opened her glass studio and gallery in Units A and B about 18 months ago, she noticed immediately that people were missing the soda fountain.

"We had about 10 people a day on the weekends coming in and stopping cold and saying in sad tones, 'Where's the soda fountain?' " she said. "Even on weekdays, there were at least one or two people a day asking about it. Every store on the boardwalk was getting inundated with demands for the soda fountain."

Jezebel is no dummy. She's owned galleries in Madrid and Santa Fe, and when she opened this one she quickly realized that old soda fountain would be a draw. But she had a few other things on her plate — like organizing a store, studio and sculpture gallery, getting the southern portal enclosed on Unit A and reinforcing the boardwalk.

She did the research to locate the old fountain, though, and began planning its comeback.

"I'd never run a restaurant before," she said, so she enlisted Fenstermaker's help and he hired Terry Trujillo, a veteran soda fountain gal.

Together they planned a layout reviving most of the old fountain bar at the back of Unit A of Jezebel Gallery, with a counter containing the multicup blender and some microwaves. There's also a small kitchen behind the soda fountain's locale to make the pastries, soups and sandwiches that are part of the menu.

Starbucks espresso and latte makers were added. Shelves feature novelty candies like Crows licorice gumdrops, and a refrigerated unit offers old bottle drinks like Orange Crush and Blue Cream Moxie.

Most important, the decision was made to refurbish the building's half-bath and open it to the customers. That required a whole new septic system, because Madrid has no sewer system. "I could have made do with portable potties, but I just thought an indoor restroom was important — and that it would be a draw in itself," Jezebel said.

All told, she spent about $50,000 ($20,000 of that on the septic system) and almost a year getting the soda fountain up and running by late summer of this year.

A worthwhile venture
It's only been a month, but the revived soda fountain is pulling people in by the handfuls.

"Besides happy tourists, we've had great local feedback. People often come in for lunch or a cone in the afternoon," Jezebel said.

As we've noted, she's smart. You can't get to the soda fountain without strolling through the aisles of local arts and crafts, and some imports, that fill the gallery. Her eclectic collection gets a bemused look-see even from people who thought they just wanted a cone and maybe a little nosh.

Fenstermaker and Jezebel have created a menu that runs from hot Tazo teas to frozen Starbucks mochas and from breakfast sandwiches through Santa Fe Black Bean Soup to sweet potato pie.

But it's the cones, malts, shakes and sundaes that most people come in for. "People are rediscovering malted milkshakes because Bill makes good ones," Jezebel said.

Fenstermaker noted that the 19 flavors of ice cream are all Dreyer's and range from plain vanilla through familiar ones like pistachio nut and rocky road to new flavors like black cherry.

Younger folks are more adventurous. The older folks want that taste of their youth.

"When we first reopened, I'd see people just go into a glazed look," Trujillo said. "There's a childlike quality that comes over them. One man told me he used to come here for a cone 60 years ago. Several people have said coming to the soda fountain was a date — 'Let's go share a sundae.' They are just so glad to see it back."

"It's an oasis," said Trujillo. "A nice treat in the desert."
Join Our Email List
Upcoming Event
Saturday & Sunday October 3rd & 4th and Saturday & Sunday 10th & 11th
Established in 1999, the Madrid and Cerrillos Studio Tour celebrates its 10th season! Meet local artist working in their studios.
Event details »
View all events »
National Scenic Byway

On June 15, 2000 the Turquoise Trail received designation as a National Scenic Byway from the The National Scenic Byways Program after completing a comprehensive corridor management plan.
The plan is available for review here »