Turquoise Trail National Scenic Byway
| | | |
| --- | --- | --- |
| Diana Johnson, Turquoise Trail Association Vice President at the April 2005 general public meeting | Pat, Susan, and Jessie. Locals attending the first 2005 public meeting. | Guest speaker, historian and writer Bill Baxter, Cerrillos Hills Park Coalition Vice President |
We expect to have three types of meetings in 2005 and 2006:
General public - Everyone is invited and encouraged to attend. These meetings are advertised locally and via our email list and can be found on our Schedule webpage.
Scenic Byways Advisory Committee (SBAC) - Every stakeholder on the Turquoise Trail is welcome, but our space is limited. Please contact us if you want to attend. We are happy to have your input. We do not have a schedule for these meetings and they are informal.
Working meetings - These are not scheduled public meetings and will not be announced except to the individuals involved. These meetings will be attended by volunteers and paid professionals to revise the Corridor Management Plan. Their efforts are directed by the Turquoise Trail Association Road Committee in response to recommendations from the SBAC and the TEA-21 grant requirements. If you would like to volunteer to help, just contact us.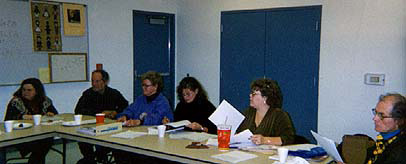 Stakeholders at work at a 1999 Scenic Byway Advisory Council Meeting
2005 Public Meeting Minutes
(four meetings held)
January
No meeting scheduled
February
No meeting scheduled
March
No meeting scheduled
April
May
No meeting scheduled
June
July
No meeting scheduled
August
No meeting scheduled

September

October
No meeting scheduled
November

December
No meeting scheduled
2006 Public Meeting Minutes
(two meetings held)
January

February
No meeting scheduled
March
No meeting scheduled
April








---
Turquoise Trail History Lecture
Enchanted Café on 1st
Cerrillos, New Mexico
April 6, 2005 - 7:00 p.m.
Attendance by sign in: Alice Griffin, Ann Murray, Bill Dempster and Marie Harding, Carole Jackson, Wendy Clark, Sandy and Frank Young, Ray and Nancy Lutz, Ken and Shannon Weaver, Susan and Jessie, Carol Fredman and Gary Collins, Sigmund and Julia Silber, Bill Baxter were from the Cerrillos area; Betsy Janeczek, D.Quintenz, Nancy Benson, Peggy Fleming, Jim Mallinson, Becky Schnelker of Sandia Park; Michele Fitzgerald, Carla Ward, Denise Jones, Todd and Pat Brown, Tom Morin and Jerry Carson, Diana Johnson, Lynn McLane, Larry Valtelhas, Marianna Hatten, Dale Edwards, Paul Ureche, and Dorothy and Joseph Rosado attended from the Turquoise Trail Association along with Francis Taylor, a reporter for The Independent.
(Approximately 60 people attended)
Diana Johnson, TTA Vice-President, opened the meeting, highlighting the Turquoise Trail Association and the need for updating the CMP and made introductions.
Ann Murray, Rural Conservation Alliance (RCA), spoke on a proposed RR route being studied by DOT; how it would be used as a commuter line & tourist avenue.
A handout prepared by the Turquoise Trail Association on membership and opportunities to volunteer was passed out.
Guest speaker. Bill Baxter (Vice-president of Cerrillos Hills Park Coalition and San Marcos Association moderator) described his topic as History of Cerrillos and the surrounding mining area, with a focus on J.P.McNulty, Turquoise and the Crown Jewels of Spain. The talk lasted 45 minutes. Questions were directed to Bill about the evenings' talk, and facts and myths of the area.
Refreshments were provided.
Meeting ended at 8:30 p.m.
---
Turquoise Trail Nature Lecture:
partnered with Talking Talons
San Pedro Creek, New Mexico
June 25, 2005 – 9:00 a.m.
Attendance by sign in: Priscilla & Gordon Vanus, Andree Peak, Larry & Pat La Badie, Kate Palmer, Jill & Bruce Miller, Daniel Abram, R. & Lee Hilley, Lowell & Pat Wagner, Daniel Abram, Amy, KT, Diana Johnson, Paul Urech, Lynn McLane, Pat Brown & Carla Ward. (23 people attended)
1. The hike participants signed sign-in sheet and waivers.

2. Diana Johnson, TTA Vice-President introduced TTA members and Talking Talons hosts that were participating in the combined talk. She focused on the need to update the CMP, which promotes the intrinsic aspects along the Turquoise Trail.

3. There were 5 questions prepared for the CMP update which the group responded to with a
show of hands and discussion period. The questions were:

Q1: What industry; mining, gas & oil, tourism, or government is the number one industry in New Mexico? A. mining-0, tourism-5, government-8.
Q2: As stakeholders along the Turquoise Trail are you willing to sacrifice other future jobs to preserve and protect the byway? A. Yes. Byway improvement would be to use infill of new businesses in existing structures, establish collaboration efforts.
Q3: Is anyone here willing to join TTA and help with our byway? A.0
Q4: Is the area truly rural? How many know of the planned 4 lanes & 6 stoplights for the area? A. Discussion was made on the proposal and highway projects boundaries, and 2 people knew of the plan.
Q5: How many of you have written to a government official or a letter to the editor of a newspaper about what you think our local growth policy should be? Or any subject at all? A. 3, and 5 people had written on any subject.

4. The Nature Lecture began with an introduction of Talking Talons' youth leadership program, which takes animals into the classroom to teach environmental conservation. Animal awareness, self-esteem, public skills and volunteering are the benefits achieved by 4th and 5th graders at the local schools. On Campbell Ranch using a Fish and Wildlife Grant they are able to use education and conservation, on a restoration project with the focus on a healthy streambed.

5. Our hike took us down along San Pedro Creek where Amy & KT of Talking Talons, lectured on plants, animals, streambed and nearby ruins. There were four great-horned owls. Talking Talons brought a great-horned owl, red tailed hawk and bull snake. Cold drinks were provided by TTA and the hike ended at 11:30 a.m.
---
Turquoise Trail History and Cultural Lecture:
partnered with Engine House Theatre
Madrid, New Mexico
September 27, 2005 – 7:00 p.m.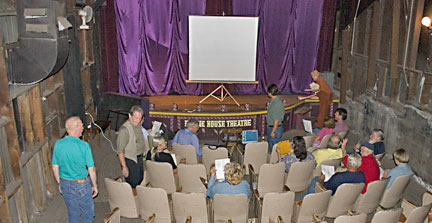 Stakeholders being seated at the Engine House Theatre byway meeting
Attendance by sign in: Diana Johnson, Pat Brown, Mary Ann Graziano, Paul Ureche, Mike Tompson, John Kretzmann, Dave Simon, Lloyd Moiola, Daisy Levine, Dr. Pat McCallish, Dennis Myers, Dana Myers, Marianna Hatten, Larry Valtelhas, Carla Ward, Lynn McLane, Annie Whitney, Tom Fulker, Bruce McIntosh, Robert Moore, Mark Covington, Dana Garnet
The meeting started at 7 p.m.
Diana Johnson, vice-president of the Turquoise Trail Association welcomed those attending and gave an introduction to tonight's lecture as "Madrid, past, present and future," identifying present Madrid rising from the remnants of old Madrid. She introduced John Kretzmann, Lloyd Miola and Mike Thompson from NM Mining and Minerals Abandoned Mines Program; Dave Simon from State Parks Division; Annie Whitney and Bruce McIntosh of the Breakfast Club.
Diana gave a brief history of Madrid's Engine Repair Garage.
John Kretzmann spoke on the safeguarding and reclamation projects done in the Turquoise Trail area funded by a fee on active coal mining and future local projects on their agenda. Lloyd Moiola gave a descriptive slide presentation on the Madrid, Ortiz Mountains and Cerrillos Hills projects. Dave Simon, did not speak but represents New Mexico State Parks who will hold public discussions when the state surveys the pros and cons of acquiring the Cerrillos Hills Historic Park, Cerrillos, New Mexico from Santa Fe County.
Annie Whitney told how the Breakfast Club evolved into a forum for area residents to solve issues that came about with living off the grid, followed by Bruce McIntosh's, "One local example", a slideshow presentation on his off the grid home.
Question and answer period followed these very interesting presentations. The meeting ended around 9:30 pm. Refreshments were served.
---
Turquoise Trail History, Natural, Scenic, and Recreation Lecture:
partnered with Sandia Crest House
Sandia Crest, New Mexico
November 12, 2005 – 11:00 a.m.
Attending were Lynn McLane, Diana Johnson, Patricia Brown, Paul Ureche, & Larry Valtelhas from Turquoise Trail Association, and guest speaker Bob and Mary Julyan.
The meeting started at 11:00 a.m. and ended at 1:00 p.m.
This lecture, the 4th in our history series, focused on a new release by UNM Press, Field Guide to the Sandia's, edited by Bob Julyan. Friends of Sandia were conducting a survey on visitor ship the morning we were there. Forest Service personnel were present and manning the information booth. The Field Guide to the Sandia's highlights Sandia Mountain, which has an impressive - 2,000,000 annual visitors and is near Albuquerque, a city of 700,000 persons. The project tapped successfully into a volunteer base of experts and professionals who wrote on the mammals, insects and geology. Editors were paid and compensated. An accompanying book is Sandia Hiking Guide by Mike Coltrin. Unique features discussed by Bob are the two sites of orbicular granite and the great unconformity where 1.4 billion year old Sandia granite is found beneath 300,000,000 year-old limestone. The mountain is home to the state butterfly, Sandia Hair Streak, the state insect, Tarantula Hawk Wasp and home also to all three species of Rosy Finch who winter here from their Artic habitat. The book is useful as a hikers field guide and rewards you with color photos. Bob answered questions during the course of the lecture, while we overlooked the Sandia mountain peaks.
---
Turquoise Trail General National Scenic Byway Lecture:
partnered with Hideaway Grill and Market
Lone Butte area, New Mexico
January 12, 2006– 11:00 a.m.
Attending were: Lynn McLane, Tumbleweeds; Diana Johnson,The Johnsons of Madrid; Carla Ward, Tinkertown; Patricia and Todd Brown, The Cerrillos Mining Museum, Casa Grande Trading Post, and Petting Zoo; Lisa Conley, Conley Studio Pottery; Marianna Hattan, High Feather B&B; Ruth Aber, Mostly Madrid; Bruce McIntosh, Wild Dog Road Photography; Tom Morin and Jerry Carson, Tom Morin Studio and Diamond T Casita; Cliff and Ede Cato, The Mine Shaft Tavern, Old Coal Mine Museum, Old West Photography and The Madrid Melodrama; Helen and Richard Boyce, Heike Stroebel, Heartseed B & B; Monica Christofferson, Campbell Ranch; Sharon Berg, Turquoise Trail Preservation Trust; Romeo and Dianne DiLallo, Mollyís Bar; Larry Valtelhas, Deanna Garnet, San Pedro Creek Estates, Laurie Frantz, Scenic Byways and Regional Marketing Program, Mike Maynard, Certified Folder
The meeting started at 11:45 a.m. and ended sometime before 2:00 p.m.
Carla Ward and Lynn McLane presented information about the byways portion of the Turquoise Trail website. They discussed byway related conferences past and future, and the progress made on the 2003 National Scenic Byway grant, which that explained is winding down and is expected to be completed by mid-summer.
Sharon Berg brought us up to date on the work the Turquoise Tail Preservation Trust is doing and the fight against the proposed San Pedro gravel pit. Sharon asked that individual write personal letters to voice their opinions on the gravel pit.
Laurie Frantz, spoke about her new position. She has been moved from the Department of Transportation to the New Mexico Tourism Department. Her new title is Byway Coordinator of Tourism for New Mexico. For the TTA this move is a great benefit. Laurie has been a long time friend to the association. Laurie discussed the National Scenic Byway program and asked that people visit the program's website at http://www.byways.org She mentioned several projects the NM Tourism Department is pursuing. The regional marketing program is continuing to provide $50,000 to each of the six state regions. The Turquoise Trail is in two of the regions. Tourism is applying for a $42,000 grant to create an e-book based on twenty six byway articles Laurie wrote on each of New Mexico state byways at the time. The e-book will be placed on CDs. The Department is also looking into creating 12,500 rearview mirror cards for airport rental cars. Each card would provide information and a map of the eight National Scenic Byways in New Mexico. The Tourism Department is also asking the the legislature to fund $500,000 for other tourism related projects.
---
Turquoise Trail Archaeological Lecture:
partnered with U.S. Forest Service, Cibola National Forest, Sandia Ranger District
Tijeras, New Mexico
April 12, 2006– 6:00 p.m.
Attending were: TBD.
The meeting started at 6:00 p.m. and ended at 8:00 p.m.
This lecture is the sixth and last in our series. Minutes of the meeting should be available by May.