Stops & Shops
Partners





NM Public Lands Info Center
Frequently Asked Questions
Everyone has questions. Here are some answers.
A contest in 1953 was sponsored by the Albuquerque Chamber of Commerce to name the scenic back road from Albuquerque to the Sandia Crest and on up through the mining towns of Golden, Madrid and Cerrillos on on to Santa Fe. Rita Simmons, a talented artist and educator from Albuquerque won the contest and a matched set of luggage! And the Turquoise Trail took off.

Of course! Turquoise was first mined by the Native Americans in the 900AD. By 1300AD villages were set up to mine Turquoise and Galena (Lead). The best known mine in the area is Mount Chalchihuitl and its Turquoise has been mined for hundreds of years and can be traced around the world. All the mines today are privately claimed and there is no access. Since Turquoise is mined you will not find it along the side of the road!

You drive East from Albuquerque, via I-40 or South from Santa Fe on I-25 to State Highway 14. Highway 14 is well marked and you will see the National Scenic Byway signs. Unless you are on a private tour, there is no public transportation along the Turquoise Trail.

Yes, Highway 536 and Highway 14 are all weather roads and are maintained by the New Mexico Department of Transportation. Expect snow during the winter months and be aware of road closures during major storms.

You can hike, shop, visit museums & galleries, camp, bike, horseback ride, ski, bird watch, eat and sleep and have a jolly good time.

There are developed picnic grounds on the road to Sandia Crest and in Cerrillos Hills State Park. And you can find scenic spots to tailgate along the roadside on the Turquoise Trail while enjoying the views.

Yes, there are gas stations along Turquoise Trail with bathrooms. Various businesses have public restrooms and the Town of Madrid has new public facilities.

Yes, there are a variety of good restaurants, cafes, coffee shops and bars.

You can travel from Albuquerque to Santa Fe directly in just over an hour but to explore and experience the Trail you need at least a half a day and could actually stay two days or more, if you golf or ski one day and then visit the museums and shops or hike in the area's Open Space properties the next.

Yes! We have many unique shops and galleries sure to delight all members of your family!

Yes, there are a number of bed & breakfasts, RV Parks and camping stops.

There are 4 museums and 2 Visitor Information Centers along the Trail.
Highlighted Event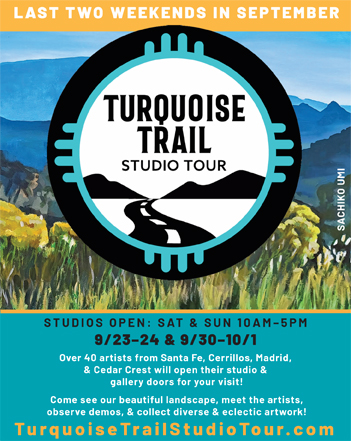 Upcoming Event
September 23-24 & September 30-October 1, 2023
Visit talented artists along the Turquoise Trail Studio Tour on scenic Highway 14. Last two weekends in September.
Event details »
View all events »