Stops & Shops
Photos & Video

Visit the Turquoise Trail online with our photo and video galleries
View Photos »
View Videos »
Partners







NM Public Lands Info Center
NM Vacation Guide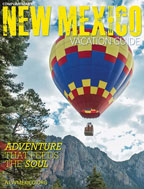 Planning Your New Mexico Day Trip
The Scenic and Historic Area encompasses 15,000 square miles in the heart of central New Mexico, linking Albuquerque and Santa Fe. Enjoy a breathtaking view from atop Sandia Crest, then drive back into history through the mining towns of Golden, Madrid, and Cerrillos, alive with art, crafts, theater, music, museums and restaurants.
Along the Turquoise Trail, you can explore unique towns, offering an assortment of interesting museums, recreational opportunities, and more. Prehistoric peoples made their homes here. Spanish missionaries explored the area and battles were fought over this land. Outlaws and Confederate soldiers camped in the area. And Kit Carson marched Navajo people along the Trail during their "Long Walk" to incarceration at Fort Sumner. Scenic views, diverse cultures, extensive history and great outdoor opportunities continue to entice visitors to journey down the Turquoise Trail today.
Tijeras
Tijeras is the gateway to the Turquoise Trail and the bustling mountain communities along its path. Two canyons come together here and the area was first inhabited by pueblo Indians. Stop here at the
Cibola National Forest
office for area information, brochures and visit the Tijeras Pueblo Archaeological Site. (505) 281-3304.
View stops & shops in Tijeras »
Cedar Crest
The next stop is Cedar Crest. These mountains also boast an archaeological continuum of human activities from the end of the last Ice Age through the present. Hike at 2
Bernalillo County Open Space
properties.
View stops & shops in Cedar Crest »
Sandia Park
As you travel north you'll see the Sandia Mountains and Cibola National Forest, a scenic and recreational paradise full of outdoor activities including bicycling, hiking, horseback riding, climbing and skiing. This beautiful area is home to a diverse collection of animals and plants, and birdwatchers come from around the world to witness the hawk and eagle migrations. From mid November through March three species of Rosy Finch call Sandia Crest home, making the area an ideal destination for bird-watchers. Just outside the community of Sandia Park, along the Sandia Crest National Scenic Byway, you'll find Tinkertown Museum; a collection of one man's life work that includes a hand carved animated miniature western town and a three-ring circus, open April thru Nov 1st. Follow the Byway, or "Crest Road", through the beautiful
Cibola National Forest
. During the drive you'll see incredible vistas and pass through five different life zones.
View stops & shops in Sandia Park »
Golden
In 1825, Golden was the site of the first gold rush west of the Mississippi, before the California and Colorado gold rushes. Originally called Real de San Francisco, around 1880 several large mining companies moved in and changed the name to Golden. The yield was disappointing and the population dwindled. Mining is all but gone from the area, but Golden survives and Mass is held the 1st Sunday of the month at 4:00 pm.
Madrid
Madrid's rich history, dating from the early 1800's, has taken it from the discovery of coal, to a mining town, to today's distinctive artist's community. Because of the unique geology of the area, a phenomenon found in only two other mines in the world, hard and soft coal were mined here with shafts as deep as 2500'. The area was booming in it's heyday supplying coal for the Santa Fe Railroad, local consumers and the US Government. The company town became famous for its Fourth of July parade, lighted Christmas displays and minor league baseball games in the first lighted stadium in the west. When coal use declined the town fell silent. It became a ghost town.
In the early 1970's, artists and craftspeople arrived. They converted old company stores and houses into quality shops and galleries and services. Madrid has an original tavern and soda fountain, the Old Coal Mine Museum and in the summer there are festivals and concerts at the Historic ballpark. The Fourth of July parade & baseball ball game, and Christmas celebrations (weekends before Christmas) have been revived by Madrid's current residents.
View stops & shops in Madrid »
Cerrillos
The area turquoise and lead deposits were critical to the jewelry and pottery making of the prehistoric Indians and these mines influenced Spanish settlement. The Cerrillos mining district is one of the oldest and most marked of the Old Spanish Mineral Developments in the Southwest. In fact, turquoise mined here found its way to the crown jewels of Spain. Cerrillos was full of hearty miners who extracted gold, silver, lead, zinc and turquoise from area mines at its peak in the 1880's. The miners supported the town's 21 saloons and four hotels.
While it was once seriously considered as the capitol of New Mexico, today Cerrillos, with its dirt streets, is a picturesque reminder of the Old West. Visit the Cerrillos Turquoise Mining Museum and Petting Zoo and Broken Saddle stables. There is a visitor center on Main Street for the
Cerrillos Hills State Park
which has 5.2 miles of hiking and biking trails. The town has been the setting for several motion pictures and TV series, "Nine lives of Elfego Baca", "Young Guns I" and "John Carpenter's Vampires". Saint Joseph's Church holds mass Sunday mornings at 9:00 am. (505) 471-1562.
View stops & shops in Cerrillos »
San Marcos/Lone Butte Area
Located on a high llano (plateau), this area was once a major center for farming and pottery making in the upper Rio Grande valley, but was abandoned after the 1680 Pueblo Revolt. It is now mostly residential. A restaurant, a gas station and other services here; and a side trip on Hwy 45 will lead you past New Mexico's first movie ranch (over 100 movies made here!) and
Bonanza Creek Ranch
where movies are often made. Return to Hwy 14 and as you drive on, look at the open range in the direction of the Sangre de Cristo Mountains, you may see antelope on the open range.
View stops & shops in San Marcos/Lone Butte Area »
Day Trip From Albuquerque, New Mexico
It might be advisable to gas up in ABQ before venturing out on the Trail as there are renovations going on with our gas stations. Take Interstate 40 East to the Tijeras exit (175). Just before the exit, you might see our National Scenic Byway sign. Once you get off the exit, you can head south to our United States Forest Service Ranger Station (1 mile) which is where the byway starts or you can go north toward Cedar Crest. Either way, you are on an incredible journey. Check out this website to see our attractions, lodging, restaurants, and shopping. Or simply pick up our brochure at one of many locations on the byway itself. Whether you spend half a day or several days, you will find our byway has plenty of options for fun!
Day Trip From Santa Fe, New Mexico
It might be advisable to gas up in Santa Fe before venturing out on the Trail as there are renovations going on with our gas stations. Take Cerrillos Road (NM State Highway 14) south from Santa Fe. As soon as, you go under Interstate 25 you are on the Turquoise Trail National Scenic Byway. As you continue your journey south, you will see amazing high desert scenic beauty. View this website to see the many things to do and see on the byway or pick up our brochure with a map at one of many New Mexico locations. Our byway offers plenty of options from a half day visit to one that can last for several days--enjoy!
Staying on the Turquoise Trail National Scenic Byway
For those that want to stay out of cities or just get a quicker start on the day, the Turquoise Trail offers many
lodging and camping
options.
Join Our Email List
Upcoming Event
Saturday & Sunday October 3rd & 4th and Saturday & Sunday 10th & 11th
Established in 1999, the Madrid and Cerrillos Studio Tour celebrates its 10th season! Meet local artist working in their studios.
Event details »
View all events »
National Scenic Byway

On June 15, 2000 the Turquoise Trail received designation as a National Scenic Byway from the The National Scenic Byways Program after completing a comprehensive corridor management plan.
The plan is available for review here »