About Us
Stops & Shops
Partners





NM Public Lands Info Center
In The News
Beautiful America: Turquoise Trail New Mexico's Turquoise Trail is one of the state's best drives
March 01, 2007
by Donna Daily
New Mexico Travel

Get off the highway and take the Turquoise Trail National Scenic Byway to see unspoilt New Mexico. It is one of southwest America's most scenic drives

If you have to get from Santa Fe to Albuquerque as fast as you can, then take the Interstate. If you can spare an extra 30 minutes, then drive instead along the Turquoise Trail National Scenic Byway that also links the two main towns in New Mexico. That's all the extra driving time you'll need, and instead of tangling with trucks you'll be enjoying one of the best and most beautiful drives in the southwest USA.

The Turquoise Trail goes through the Sandia Mountains and the Cibola National Forest and passes through old mining towns including Golden, Madrid and Los Cerillos.


HISTORY
Although the modern Turquoise Trail route was only created about thirty years ago, the name comes from the fact that turquoise was mined in these mountains by Native Americans some 2000 years ago. The Spanish Conquistadores continued the mining, and turquoise was still being taken from the ground here into the 20th century. Later the quiet natural beauty of the area attracted artists and writers, and modern life still hasn't intruded too much on what has been called the Turquoise Trail since the early 1970s.
DIRECTIONS
The Turquoise Trail National Scenic Byway is Route 14. From Albuquerque head east on Route 40 for a few miles, take the Tijeras/Cedar Crest exit and drive north. From Santa Fe you can pick up Route 14 in the city center. The Trail runs for about 50 miles from Albuquerque to Santa Fe.
SIGHTS ALONG THE WAY
TINKERTOWN MUSEUM: Families with young children will want to stop here, even if the Albuquerque end of the Trail has hardly started. Don't miss the miniature old west town. Look for the museum walls, made from over 50,000 glass bottles. www.tinkertown.com
GOLDEN: Golden's a little ghost town with some picturesque buildings, including an old mission church and graveyard. People still live here, so treat the place with respect.
MADRID: This former coal-mining town (check out the Old Coal-Mine Museum) is now home to craft shops and galleries with a 1960s New Age feel.
LOS CERRILLOS: Find out about the turquoise mining trade in the little museum in tiny Cerrillos, one of the first centers of the trade some 2000 years ago. It's in the picturesque
Casa Grande Trading Post
.
Highlighted Event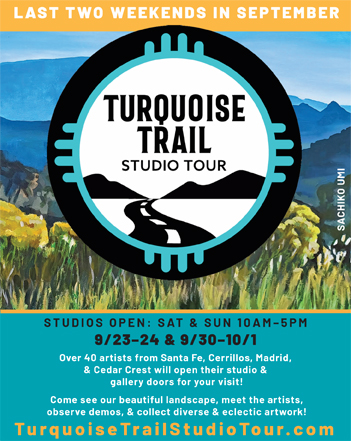 Upcoming Event
Everyday between Jan 1 - Dec 31
Independent, non-commercial, listener-supported, volunteer-run, freeform, community radio from Madrid, NM!
Event details »
View all events »