About Us
Stops & Shops
Partners





NM Public Lands Info Center
Turquoise Trail In The News
The Turquoise Trail is full of history, interesting stops and spectacular views.
Nov 18, 2019 - Santa Fe New Mexican By Teya Vitu They started a tiny hops farm seven years ago with 100 plants along Galisteo Creek off the Turquoise Trail. Read more »
Jul 18, 2015 - The New York Times Where to Go Now July 15, 2015 By JOHN L. DORMAN "At roughly 7,000 feet above… Read more »
Dec 21, 2014 - By James Reed - Globe Staff December 20, 2014 Heading from Albuquerque to Santa Fe on Highway 14, the Turquoise Trail. Blazing down Interstate… Read more »
Oct 09, 2014 - Yahoo Travel Ann Abel Growing up in Albuquerque, I counted the drive up the "back way" to Santa Fe as one of my favorite… Read more »
Sep 26, 2014 - New York Times Travel Section By FREDA MOON For years, when I pictured the Rio Grande, it was as the spindly, concrete-encased trickle that marks… Read more »
Jun 18, 2014 - Film tourism is hot, and not just for the big screen. When a popular TV shows is shot in a specific city or town, fans plan trips around the location.… Read more »
Jan 27, 2014 - New Mexico lives up to its nickname – the Land of Enchantment – with glittering deserts, vast underground caverns, gem-rich mountains and hundreds of years of human history By… Read more »
Nov 13, 2013 - John Wayne rode his horse along the Turquoise Trail in New Mexico. In earlier centuries, so did Apaches, Spanish soldiers and crusty miners in earlier centuries. Last… Read more »
Aug 14, 2013 - Drive through Colorful Country on the Turquoise Trail August 14, 2013 Updated Jan 21, 2013 in Getaways: Byways on a Budget and Goodyear's Top 50 Scenic, Comfortable… Read more »
Apr 12, 2013 - New Mexico by Motorcycle Apr 24, 2013 New Mexico by Motorcycle Knock around Santa Fe and Albuquerque the Dennis Hopper way. Published… Read more »
Highlighted Event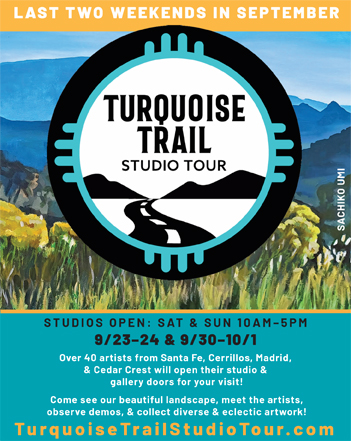 Upcoming Event
Everyday between Jan 1 - Dec 31
Independent, non-commercial, listener-supported, volunteer-run, freeform, community radio from Madrid, NM!
Event details »
View all events »