About Us
Stops & Shops
Partners





NM Public Lands Info Center
In The News
Off the Beaten Path: 6 Hidden Gems Along New Mexico's Turquoise Trail
October 09, 2014
Yahoo Travel
Ann Abel


Growing up in Albuquerque, I counted the drive up the "back way" to Santa Fe as one of my favorite weekend family adventures. My parents would drive along a lonesome two-lane road that winded its way through some of the most striking scenery in a state full of beautiful landscapes. All the while, they'd hope my sister and I didn't bicker too much as we made our way over and around Sandia Peak.

Back then, I'd thought the route, which took about 90 minutes if we didn't stop, might have been called the Turquoise Trail, because they sky was always so impossibly blue, or because there were a handful of shops selling turquoise jewelry of a style and quality suitable for 10-year-old girls. Not so. About 100 years ago, it was the center of mining in New Mexico, booming from the blue gemstone, coal, and gold.

When the boom went bust, the mining communities became ghost towns and stayed dilapidated for decades. By the 1980s, their renaissance was just starting, and Madrid — pronounced "Mad-rid," not like the city in Spain — began attracting bikers and New Agers, and, it seems, at least one young family with kids. We would tour the old mines, buy cheap jewelry and geodes, and watch melodramas at the Engine House Theatre. We cheered, booed, and hissed, throwing marshmallows at the on-stage villain. If it rained on the theater's tin roof, there would be an intermission until the noise let up. It was a highlight of my childhood.

Now that I'm the same age as my parents were back then, I wanted to see how the Turquoise Trail had changed.

As it turns out, not much has changed. Last month we piled in the family car, headed east on Interstate 40 through Tijeras Canyon and around Sandia Peak, and then north on State Highway 14 through the reinvented mining towns and vast, open landscapes with dark green junipers and supersaturated skies with cotton-ball clouds.

If you visit Santa Fe or Taos, you're probably going to fly into Albuquerque. Most people get on Interstate 25 and suck it up for a somewhat boring hour. However, the back way is far more interesting. Here's what's worth a stop now.

Sandia Peak

At Tijeras, exit I-40 to follow State Highway 536 up to the 10,000-foot Sandia Peak. At the top, there are terrific views of Albuquerque, the Rio Grande Valley, and the mountains and volcanoes about 60 miles to the west. There's also a short, easy trail to High Finance restaurant, which might serve better views and ambiance than quality food — but the dining room is spectacular. From there you can ride the Sandia Peak Tramway — at 2.7 miles, it's among the longest in the U.S. — down to the city and then back up. After that detour, get back on I-40 for a few miles to north State Highway 14.

Golden

The reason to stop here is Henderson Store, which is as much a museum (the photos on the walls are fascinating) as it is a sophisticated boutique for anyone looking to buy quality Native American jewelry, pottery, rugs, and other crafts. When we asked about a vintage portrait on the wall, the shopkeeper said it was of her great-grandfather, who opened the store a century ago. Then she introduced us to her toddler son, who will probably be behind the register in about 15 years.

Madrid

My favorite sign in Madrid is on a shopping complex called Gypsy Plaza, home to boutiques such as Gypsy West Tarot, Spirit in Art, Collaboration, and Tapestry Gallery. It shares a parking lot with a roadhouse that's still a hot spot for Harley guys (and girls). That's Madrid. The roadhouse is the Mine Shaft Tavern, which is connected to the Engine House Theatre. It still feels like a biker bar, but it's evolved like the rest of the town. My parents got the pulled-pork sandwich and the green-chili cheeseburger, which has deep-fried whole chilies and was named the best green-chili cheeseburger in the state. As for me, my quinoa-feta-avocado salad was surprisingly tasty. Across the street at the new, beloved Hollar, the menu likewise ranges from award-winning buffalo burgers and fried green tomatoes to seared ahi tuna and caprese salads. After lunch, if you want to buy crystals or dream catchers, you're absolutely in the right place. You'll also find shops such as Cowgirl Red and the Great Madrid Gift Emporium, which specialize in vintage Western wear and cowboy boots.

Cerrillos

Used as a location for many films (remember Wild Hogs?), Cerrillos isn't as developed as Madrid. But the Casa Grande Trading Post and Cerrillos Turquoise Mining Museum and petting zoo are worth a stop. Much of the jewelry is more suited for my 10-year-old self, but if you're looking for fast fashion, you could do a lot worse. I fell for the local chapbooks, torn between looking at New Mexico Bar Jokes or Missions of New Mexico first. Just north of Cerrillos, there's more serious art at the Turquoise Trail Sculpture Garden and Studio, a project of artist Kevin Box, who is currently showing at the Santa Fe Botanical Garden.

Lone Butte

Santa Fe is just a few miles from here, but if you're looking for a rural stay, the Rancho Gallina inn just opened with five cozy, authentic farmhouse rooms.

Santa Fe

"The City Different" needs no introduction. Briefly, see art at SITE Santa Fe and the nearby galleries at the Railyard, eat cheap and cheerful New Mexican food at The Shed or splurge on dinner at Restaurant Martín, and stay at the Inn on the Alameda, a comfortable four-star hotel that's the best value in town.
Click here for original article
Highlighted Event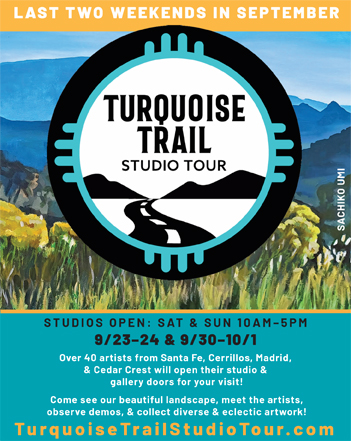 Upcoming Event
Everyday between Jan 1 - Dec 31
Independent, non-commercial, listener-supported, volunteer-run, freeform, community radio from Madrid, NM!
Event details »
View all events »