About Us
Stops & Shops
Partners





NM Public Lands Info Center
In The News
Drive through Colorful Country on the Turquoise Trail
August 14, 2013
Drive through Colorful Country on the Turquoise Trail
August 14, 2013
Updated Jan 21, 2013 in Getaways: Byways on a Budget and Goodyear's Top 50 Scenic, Comfortable Drives.

Travel the Turquoise Trail and discover a path packed with culture and history set in a landscape of mountains, canyons, forests, and rock formations. The route follows NM-14, leaving the busy interstates behind. Cover all the bases by seeing museums, cities, and scenery surrounding this route.

Two museums, the Cerrillos Turquoise Mining Museum and the Museum of Archaeology and Material Culture, both feature displays related to the history of south-central New Mexico. The Mining Museum shows tools and artifacts from the region's mining history, which includes Native American, Spanish, and Anglo miners. Displays include artifacts and tools, such as photos, maps, rocks, gold pans, and more. Visit the Museum of Archaeology and Material Culture, featuring permanent archaeological and historical exhibits covering over 12,000 years of Native American history. One exhibit explores local turquoise mining, showing one of the sources for the byway's apt name. For a change of scenery, stop at Tinkertown Museum and see one man's whimsical 22-room museum created over the course of 40 years. Over 50,000 glass bottles form the outside of the museum. Inside, magical carvings and figures displayed in miniature scenes fill the rooms, and antiques and hand-carved pieces line the walls.

Two of New Mexico's most famous cities await you, eager to offer cultural experiences unlike any other. Sitting in the Rocky Mountains, Santa Fe is surrounded by millions of acres of national forest and public lands, giving access to a number of outdoor activities. Over 1,000 miles of trails in the Santa Fe National Forest provide opportunities for both relaxed and rigorous recreation. The trails also offer year-round adventure; you can hike in the summer or cross-country ski in the winter. With a history of over 400 years and a combination of Native American, Hispanic, and European cultures, Santa Fe's shopping and dining are deliciously diverse. Albuquerque, like Santa Fe, is a smorgasbord of culture. American Indian, Spanish, Anglo, African, and Asian people have all contributed their tastes in art, architecture, music, and food, as well as their religions, customs, and traditions.

The varied landscape of the area lends itself to standout scenery. The anomalous Garden of the Gods rock formation extends for miles on both sides of the byway, and it is a great place to stop for a break and see one of nature's unusual creations. Over 70 million years ago, streams deposited horizontal beds of colorful sandstone and mudstone. Earth's movement gradually pushed the beds into their present vertical position. At the Sandia Peak Ski Area and Tramway, ride the scenic summer chairlift up Sandia Peak, then mountain bike down. In the winter, hit the slopes; 30 trails and four chairlifts satisfy all aptitude levels. Take the tramway and experience the 11,000-square-mile panoramic view of New Mexico from atop Sandia Peak. Known as the world's longest tramway, the lift travels 2.7 miles from the base to the top of the mountain, suspended over desert, canyons, and forests.

The Turquoise Trail takes you through the Rocky Mountains, crossing canyons, forests, and rock formations. Along the way, participate in and partake of the diverse culture and history in central New Mexico museums and cities.

Highlighted Event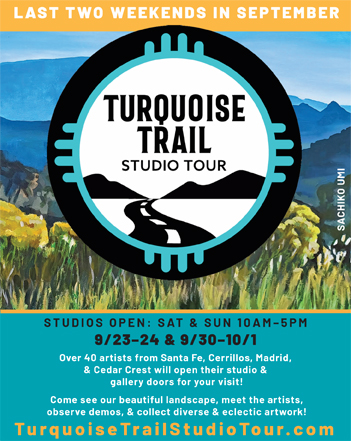 Upcoming Event
Every weekend between December 2-23, 2023
December Holiday Activities on weekends through Christmas. The Madrid Christmas Parade along Main St (Hwy 14) is on Dec. 2 at 4PM.
Event details »
View all events »