About Us
Stops & Shops
Partners





NM Public Lands Info Center
Turquoise Trail In The News
The Turquoise Trail is full of history, interesting stops and spectacular views.
Apr 19, 2007 - By Hugh Hackett It is a rare event when a small town in New Mexico receives worldwide media exposure. Madrid has experienced just such an event with… Read more »
Mar 01, 2007 - by Donna Daily New Mexico Travel Get off the highway and take the Turquoise Trail National Scenic Byway to see unspoilt New Mexico. It is… Read more »
Feb 11, 2007 - By David Lyon Globe Correspondent / February 11, 2007 This little back-hills town is about to be "discovered" on March 2 when Disney's Touchstone Pictures is… Read more »
Nov 20, 2006 - Known as "The Turquoise Trail," NM 14 begins about 16 miles east of downtown Albuquerque, at I-40's Cedar Crest exit, and winds some 46 miles to Santa Fe along the… Read more »
Jun 26, 2006 - Stories and photo by Cynthia Pasquale Many of northern New Mexico's "hidden" geological jewels – extinct volcanoes, lava flows, petroglyphs, sandstone formations – can be found just… Read more »
May 20, 2005 - New Mexico Business Weekly - by Sean O'Hara NMBW Staff After acquiring an 11-year-old Santa Fe charter company last year, the new owners have studied the New… Read more »
Jul 23, 2004 - Hattie Kauffman visits New Mexico's Turquoise Trail (CBS) The drive from Albuquerque to Santa Fe runs about an hour if you take the interstate, the route most tourists take… Read more »
Highlighted Event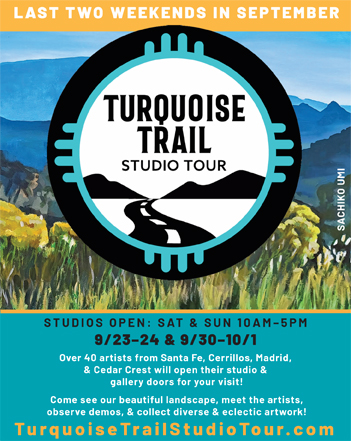 Upcoming Event
Every weekend between December 2-23, 2023
December Holiday Activities on weekends through Christmas. The Madrid Christmas Parade along Main St (Hwy 14) is on Dec. 2 at 4PM.
Event details »
View all events »