About Us
Stops & Shops
Partners





NM Public Lands Info Center
Turquoise Trail In The News
The Turquoise Trail is full of history, interesting stops and spectacular views.
Jul 28, 2011 - Mountain View Telegraph by Rory McClannahan Michael Montano has put a lot of sweat, a few tears and, yes, some blood into restoring San… Read more »
Jun 23, 2011 - Nestled in the hills and valleys of central New Mexico is one of the state's most interesting and scenic drives – the Turquoise Trail National Scenic Byway. This often forgotten… Read more »
Jun 23, 2011 - The Turquoise Trail National Scenic Byway connects ancient mines and ghost towns reborn as artist communities. With eye-ache blue skies and hundred-mile views, it's easy to see why the high… Read more »
Jun 23, 2011 - The Turquoise Trail is NM-14 as it snakes its way from Interstate-40 east of Albuquerque to Santa Fe, New Mexico. It's a worthy destination for a day's drive if you… Read more »
Jun 23, 2011 - Back roads often lead to glorious scenery and great discovery, and so it is with the Turquoise Trail. When you leave the freeway and venture onto the scenic and historic… Read more »
May 17, 2011 - Reviews of the Turquoise Trail Read more »
Mar 31, 2011 - Blue Highway Discover riches on the Turquoise Trail Story and Photography by Lesley S. King As I start my journey along the Turquoise… Read more »
Dec 03, 2010 - Madrid and Cerrillos, New Mexico Along the Turquoise Trail By John Treadwell Dunbar Friday, December 3, 2010 http://www.canadafreepress.com/index.php/articles-travel/30647 New Mexico's 52-mile Turquoise… Read more »
Nov 18, 2010 - Mining New Mexico: A Turquoise Trilogy in Old Cerrillos Part 3, Casa Grande Trading Post! Paul Baxendale http://findermaker.blogspot.com/2010/11/mining-new-mexico-turquoise-trilogy-in_18.html Thursday, November 18, 2010 So,… Read more »
Jan 04, 2010 - Marc Simmons | For The New Mexican Posted: Friday, December 18, 2009 Christmas in New Mexico's early-day mining camps was often the year's high point for… Read more »
Highlighted Event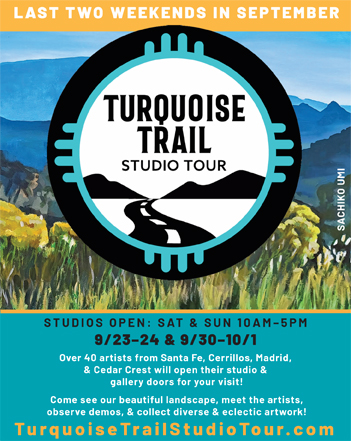 Upcoming Event
Everyday between Jan 1 - Dec 31
Independent, non-commercial, listener-supported, volunteer-run, freeform, community radio from Madrid, NM!
Event details »
View all events »