About Us
Stops & Shops
Partners





NM Public Lands Info Center
In The News
Trip Advisor: New Mexico: Turquoise Trail
June 23, 2011
The Turquoise Trail is NM-14 as it snakes its way from Interstate-40 east of Albuquerque to Santa Fe, New Mexico. It's a worthy destination for a day's drive if you are in town. Take Interstate-40 eastbound until you see the exit signs for Tijeras and the Turquoise Trail. Head north at a leisurely 50 miles and hour for the first ten miles (do not speed as the enforcement is intense and punctual). You will initially be surrounded by what appears to be small strip malls in a non-descript canyon. Be patient. As you make your way to the 8 mile point, you will be reach Sandia Park. Here the land spreads out before you. On your left, going up the mountain, is the National Scenic Highway to Sandia Peak. This is at least a 2 hour round-trip unto itself, including viewing time from the crest. A shorter side trip is the jog up that same road to Tinkertown museum. Here, an eclectic bit of Americana is available for about an hours worth of review. The vast hodgepodge of one mans life of collecting is assembled into one spot for you to peruse. His passion for detailed small devices is something to behold. Spending anymore time there will invite you to plunge down the same demented rabbit-hole as the person who devised Tinkertown. Suffice it to say, it's worth the divertion.

So, now you are back on NM-14 heading north. The land becomes a beautiful melange of Pinon, Juniper and scrub bush. The Ortiz Mountains, which once produced millions of dollars in gold, loom before you, blocking the view to Santa Fe. Just 4 miles past the turn-off to Sandia Peak is Paako Ridge Golf Course. It has been rated on of the top 50 public courses in the country and is indeed well loved by those of the little white ball pursuasion. This diversion will stop you for the rest of the day if you fall into that category and you will be most satisfied.

If this is not you, then proceed north. The next stop on the trail is Golden, NM. Make sure you stop in the Golden Hardware and Mercantile. Here you will find amazing Navajo jewelry along with a collection of items that are eclectic and rare. The mercantile has been in business since 1918 and their hours are spotty. Good for you if you catch them on an open day. Another attraction here is the simple and beautiful San Francisco Catholic Church, on a hill to the right of the highway. It 's situated on a beautiful spot overlooking the Ortiz Mountains.

From Golden make your way north to Madrid, NM. Here you will find a funky artist community that hearkens back to the days of 1960's counterculture. A fun bar & restaurant, the "Mineshaft" offers good food, and "interesting" people! The many small shops with handcrafted art are the anchors for this town. It is an old coal mining "company town," that regained some measure of fame by lighting up the whole town during Christmas back in the 30's and 40's, so that airliners flying by could see the Christmas Lights of Madrid. Make no mistake, these people like their privacy and will only tolerate you snooping down their little lanes so much. Buy a rug in the store devoted to Tibetan's; you will find ones unlike anywhere outside of Tibet.

If you didn't grab a green-chile cheesburger at the Mineshaft, you may want to try the San Marcos cafe in Cerrilos for lunch. Here, you will eat with the chickens pecking in the yard outside, so you know the eggs, if you have them, are fresh. The food here is fantastic. It looks like and is part of a hardware store. This is a great place.

The greatest thing about the Turquoise Trail is the fantastic scenery and the amazing characters you will find along the way. Make sure you take the time to take this drive when visiting Albuquerque. Santa Fe now lies before you. Another New Mexico story for you to explore..
Click here for original article
Highlighted Event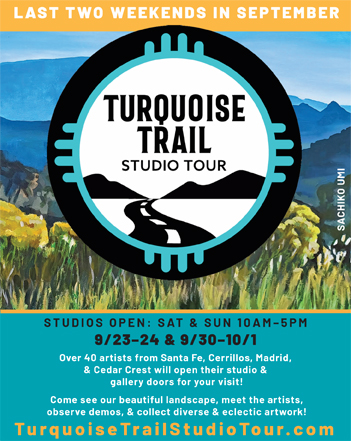 Upcoming Event
Every weekend between December 2-23, 2023
December Holiday Activities on weekends through Christmas. The Madrid Christmas Parade along Main St (Hwy 14) is on Dec. 2 at 4PM.
Event details »
View all events »