About Us
Stops & Shops
Partners





NM Public Lands Info Center
In The News
NEW MEXICO LEGENDS Turquoise Trail National Scenic Byway
June 23, 2011
Nestled in the hills and valleys of central New Mexico is one of the state's most interesting and scenic drives – the Turquoise Trail National Scenic Byway. This often forgotten road is filled with history, scenic views, ghost towns, a National Forest, a ski resort, art galleries, shops, museums, and more.

Linking New Mexico's two most major cities – Santa Fe and Albuquerque, the 65 mile national scenic byway is often called the back road between the two cities. Named for the rich turquoise deposits found near its northern end, the Turquoise Trail was used for centuries by Native Americans and Spanish explorers before miners began to flood the area in the late 1800's in search of the hills' many rich minerals. The beautiful blue-green turquoise was first mined by the early Pueblo people as early as 900 A.D. Though this hilly highway has seen much recent growth, it still maintains a historic view of the Old West, along with its galleries, restaurants, and museums.

Tijeras

The scenic byway begins in Tijeras about 16 miles east of Albuquerque. In Tijeras is one of the Cibola National Forest's Visitor Centers, which provides numerous brochures and information about the area. The forest spans three states and almost 2 million acres. Also here, is the site of the Tijeras Pueblo Ruin, formed about 1300 A.D. This canyon community eventually housed about 400 Indians; however major droughts drove them out. Today the 200-room pueblo is a grass-covered mound and a frequent site of archeological excavations. This small town was once one of the many communities on old Route 66 and is also home to the world's longest tramway, where visitors can ride almost three miles to see spectacular views of the Sandia Crest Highway, Albuquerque, and the Cibola National Forest.

During the summer and into the fall, from May through October, Tijeras also offers a juried arts and crafts market at 488 E Highway 66, that provides not only the work of some of New Mexico's finest artisans, but also live music, and a beautiful scenic setting.

Cedar Crest

From Tijeras, the route follows NM-14, through Cedar Crest, which is the home of the Museum of Archaeology and Material Culture, which explores the 12,000 year story of our Native American History. This small, mostly residential community also provides a number of shops and restaurants for the Turquoise Trail visitor.

Sandia Park

Just up the road you will arrive at Sandia Park. Here, you will find all manner of outdoor activities from skiing at the Sandia Peak Ski Area, to hiking, horseback riding, climbing and more. Another Scenic Byway also presents itself here – the Sandia Crest Highway, just 13 short miles on NM 536, which winds through the Cibola National Forest and provides amazing scenic views. On this highway, visitors can ride the Sandia Peak Tramway and visit the Tinkertown Museum, which provides an animated miniature Old West town, along with circus relics and thousands of hand-carved figures.

Continuing on the Turquoise Trail another ten miles brings you to its first ghost town – Golden, established in 1879 when gold was found in the area. Soon prospectors crawled all over the area, but less than a decade later, the gold was gone and the town began to die. Ranching continues in the area that is dotted with the crumbling remains of the ghost town, as well as traces of two pueblos that date back to 1300 A.D. The San Francisco Catholic Church, built in 1830, is one of the most photographed buildings along the Trail. This beautiful little adobe church was restored by historian and author Fray Angelico Chavez, during his tenure as padre of the San Jose in Cerrillos in the 1960's.

While here, don't miss the general store that has been in operation since 1918 before moving on towards Madrid.

Madrid

Twelve miles later the trail takes you through Madrid, categorized as a ghost town , even though it has some 300 residents and thrives in the summer with shops, restaurants, and galleries catering to the many visitors along this ancient path.

Madrid and neighboring Cerrillos to the north have long been known for the turquoise nestled in the surrounding hills. Mined by the Indians for centuries, it was later discovered by Spaniards who also searched the area for silver and gold. In the early 1800's, American prospectors moved into the area and in the 1880's large coal mine companies began operations.

It was during the coal mining peak, that Madrid boasted more than 3,000 residents and produced some 250,000 tons of coal a year.

But the boom was not to last for Madrid. When natural gas began to be the more popular fuel for home heating, the demand for coal began to fall.

The town of Madrid collapsed along with the coal market. In 1954, the Albuquerque and Cerrillos Coal Company ceased to operate and almost all of its residents moved away.

However, by the early 1970's a number artists, craftsmen, and other individuals wanting to make their homes in the mountains, began to move into the area and Madrid was reborn. Today this unique and picturesque small town is a haven for day trippers and travelers along the historic Turquoise Trail Scenic Byway, as they stop to browse its many shops, cafes and bed & breakfast inns.

Just north of Madrid is a quirky little place that if you don't look closely could be mistaken for a junk yard. Called Tiny Town, this mixture of cast off toys, bones, and other junk, proudly displays a sign at its entrance: "If it isn't broke, dead, or rusted, well I just can't use it." As the sign implies, a short sojourn through this roadside display will turn up all manner of strange displays in this ever-evolving miniature ghost town.

Los Cerrillos

Before long, you will arrive at Los Cerrillos, best known its beautiful blue-green turquoise mined in the Cerrillos Hills as early as 900 A.D. One of the oldest historically documented mining districts in the United States, this almost "ghost-town" is a must stop along your journey of the Turquoise Trail.

Beginning with Native American miners followed by the Spaniards, the area boomed in the 1880's when gold, silver and lead mines began to operate in the area. In no town, the population of Los Cerrillos had grown to over 2,000 souls who supported four hotels, 21 saloons and numerous other businesses. Like so many other boom towns, Los Cerrillos played out when the minerals were gone. However, the town has made a partial rebirth as numerous people find this historic Old West settlement and its many sites, including the Los Cerrillos Historic Park, adobe homes and businesses, Saint Joseph's Church, a museum, and more.

Beyond Los Cerrillos the trail continues to meander through the Galisteo Basin that once supported a very large Pueblo population in 1300 A.D. The area, known for its razor-back rock formations called "Garden of the Gods" is home to the Eaves Movie Ranch, where more than 100 movies have been filmed.

Just north of Lone Butte/San Marcos travelers reach the end of the Trail, where it meets historic Route 66 and Santa Fe.

Contact Information:
Turquoise Trail Association
888-263-0003


Eaves Movie Ranch

Hollywood's Gene Kelly had this "town" built in 1969 for the filming of a movie he was producing, Cheyenne Social Club, starring Jimmy Stuart and Henry Fonda. In the years since it has hosted the likes of John Wayne, Clint Eastwood, Kevin Costner, Kevin Kline, and Johnny Cash. When it isn't serving as a Wild West backdrop for cameras, it is open to the public for tours. The J. W. Eaves Movie Ranch is about 10 miles south of Santa Fe. Photo by Mark Nohl, courtesy New Mexico Tourism.
Click here for original article
Highlighted Event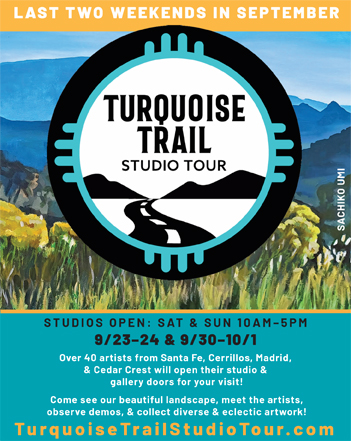 Upcoming Event
Everyday between Jan 1 - Dec 31
Independent, non-commercial, listener-supported, volunteer-run, freeform, community radio from Madrid, NM!
Event details »
View all events »