About Us
Stops & Shops
Partners





NM Public Lands Info Center
In The News
Madrid and Cerrillos, New Mexico - Along the Turquoise Trail
December 03, 2010
Madrid and Cerrillos, New Mexico
Along the Turquoise Trail
By John Treadwell Dunbar Friday, December 3, 2010
http://www.canadafreepress.com/index.php/articles-travel/30647


New Mexico's 52-mile Turquoise Trail National Scenic Byway, or simply the "Turquoise Trail," is a popular alternative to Interstate 25 if you're venturing between Albuquerque and Santa Fe. Highway 14 east of the Sandia Mountains traverses a broad, high desert and low rolling hills with long views of mountains in the distance. This dry country of pinion-juniper, brushy grasslands and too much dirt has played host to adventurers of all walks of life including pre-Columbian Native Americans, Spanish conquistadors, Mexicans during a time of Mexican supremacy, and more recently Anglo-Americans.

Two small towns in particular along the Turquoise Trail are worthy of this popular detour; Madrid (pronounced MAD-rid) and Cerrillos, about 25 miles south of Santa Fe. These little gems are rich in history, rich in lore, and like so much of the American Southwest are seeped in a mining tradition that reaches back to A.D. 1,500 and beyond.

It was primarily coal that brought Madrid to life by the late 1800s, and after the market played out by the 1950s, artists and craftsmen trickled in. Beginning in the 1970s this new breed of locals breathed an altogether different kind of existence into the defunct ghost town. Today Madrid is a vibrant, grungy, eclectic getaway, popular during warm weather with day-trippers, bikers, art-seekers, turquoise enthusiasts and even the movie industry.

Madrid's coal era began in the 1880s, the mines producing 180,000 tons at its height in 1928. A network of tunnels and 2,500-foot shafts were excavated throughout the region. The booming town, nestled in the Ortiz Mountains, had a population at one time of 3,000. It became the quintessential company town supplying its residents and employees their needs, whether they liked it or not.

Company life was not as bleak and oppressive as it might sound. The owners supplied free electricity, and during the prohibition era (1920-1933) even provided a secret spot for distilling illegal liquor. Baseball also played a major role in Madrid which constructed the first lighted baseball park west of the Mississippi River. It's still in use today. Madrid was also home to the Brooklyn Dodgers farm team, the Madrid Miners.

And then along came natural gas which made the demand for house-heating coal plummet and Madrid's future wane. By 1954 the Albuquerque and Cerrillos Coal Company boarded up shop and the residents, almost to the man and woman, moved on to greener pastures. Madrid became a ghost town in every sense of the word. Few wanted anything to do with the remaining coal, or the homes or the infrastructure, even after the town was offered for sale through the Wall Street Journal at an astonishingly low price of $250,000.

Then came the hippies and hipsters, artists and craftsmen and others who recognized a good price and saw the value in "quaint" and things rustic and falling apart, and laid back, and beginning in the 70s were inspired to rent or buy old residential homes and convert them to art galleries, restaurants, cafes and B&Bs. That's what you'll find today – a funky, colorful little town of 300+ residents, good times and a great place to squeeze the last dime out of your credit card.

Too lazy to shop? Then for you day-drinkers in need of elbowroom, you'll find plenty at the historic Mine Shaft Tavern (est. 1899, burned down in '44 and rebuilt in 1947). It's got the state's longest stand-up bar, popular with the leather-people, bikers whose overpriced hogs line Main Street in shiny chrome rows during the temperate months. But don't let them scare you away.

Shoppers and gawkers wander in and out of small refurbished miners cabins and wood-frame homes that line both sides of the road. Crooked picket fences, lopsided mail boxes, Mexican blankets, pottery in overgrown front yards, rusty cars, wind chimes dangling in the breeze and bunches of red chili peppers nailed to the wall adorn quaint shops painted yellow, green, lavender, blue, pink and shades in between. It makes for great photography, though nowadays shopping is the name of the game.

But not all come for the unpretentious atmosphere, galleries and boutiques. Some visitors could care less about the handmade silver and turquoise jewelry or the bead work or stained glass or fine photographs. It's not the leather goods or ceramics or exquisite tapestry or even traditional Navajo weaving that attracts them; nor the fine sculpted objects, precious gems and silverware or the sculpture gardens. They wouldn't give two cents for all of Madrid's fine canvas paintings, and as for the renowned Christmas lights spectacle that sets the town aglow each winter, they're just not interested. All they really want is to visit Maggie's Diner featured in the 2007 Disney Touchstone production "Wild Hogs." You'll find it still standing next to the Great Madrid Gift Emporium, a worthy stop in its own right if you love silver and turquoise.

Expectations were understandably high considering the star power this movie attracted. With talent like William H. Macy, Tim Allen, Martin Lawrence, Ray Liotta, John Travolta, a few lines from Peter Fonda of Easy Rider fame, and the quirky bundle of energetic talent that Marisa Tomei brings to the screen, you'd think it would have been a critical success.

"Wild Hogs" is the comedy-adventure tale of four middle-aged suburbanite men in need of a thrill or two and much-needed self-discovery. They strike out on their motorcycles only to rile a gang of real nasty bikers who, following a series of mishaps and disconnects, seek revenge on the fleeing fumbling four. The showdown takes place in Madrid where Maggie's Diner plays a role in the plot.

For better or worse, it's fun watching the story unfold on the streets of Madrid, for me at least. As for the movie, let's just say it could have been better. And though it was a critical flop (the reviews were brutal) it made a potful of money nonetheless.

Be afraid, be very afraid! That's the cliche you should chant if you believe in ghosts, if you stroll the dark streets of Madrid alone at midnight, because tradition has it that Madrid is chock-full of the discombobulated afterlife. Banging doors and squeaky floors, other people's reflection in the mirror and similar forms of mischief have fed this legend for decades. The translucent have even been attested to, spotted gliding hither and yon, like the spirit of La Llorona, a ghost of a skinny woman, a supermodel among the living dead, tall and forever weeping, a real looker despite her age who wanders forlorn throughout the Southwest in search of, I don't know, … something … a Taco Bell maybe, or hand lotion.

Of course, if you don't believe in this hooey, then don't be afraid. Just laugh, put your car in gear and drive three miles down the road to one of the most authentic, original Spanish-style adobe villages in New Mexico – charming Cerrillos. Hard to imagine Cerrillos bustling with four hotels, a couple of newspapers, 21 saloons and the obligatory disease-riddled brothels, but there was a time when things were rocking, especially once the Santa Fe Railroad laid out the streets and the tent city gave way to permanent structures. But that was then.

On quiet days, which is most of the time, the only obstacles you'll encounter in the dusty, dirt roads are large dogs snoring off an afternoon drunk in the middle of the street in the shade of enormous, gnarled cottonwood trees. Quaint haciendas hide behind long adobe walls crumbling in the heat while chickens scratch and cluck and a few old-timers cling to wood benches and watch the curious slowly drive up and down the side streets and back and forth looking for the beautiful St. Joseph Catholic church, or the old Simoni Store and Wortley Hotel on Front Street which they just drove past, or the remains of the Clear Light Opera House, or the What Not Shop and Mary's Bar where the raucous cast of "Young Guns" stepped out of line one night and was promptly put in its place by the proprietor (it must be a Sheen thing).

Take your time and soak up all that colonial charm, that Hispanic ambiance and all of that rich mining history that defines Cerrillos. It's not surprising that Hollywood made a dozen movies in picturesque Cerrillos over the years. One of the most famous was the 1988 western "Young Guns," yet another variation of the Lincoln County War and that rascal "Billy the Kid" played by Emilio Estevez, one of Martin Sheen's boys.

Even though lead, gold, silver and zinc were mined in the Cerrillos Mining District – allegedly the oldest continuous mining district in the West – it was turquoise that put the Cerrillos Hills on the map for good. The highly-coveted blue-green gemstone was mined in abundance since at least A.D. 900 by Native Americans who extracted vast quantities from large pits on the flanks of Mount Chalchihuitl just to the north. Until 1910 this region was the world's largest, most productive source of this handsome stone which has found its way in to countless silver necklaces, broaches, belt-buckles and earrings over the centuries.

The large commercial turquoise mines have shut down, but small mines continue to extract these precious works of nature, such as the Little Chalchihuitl Turquoise Mine owned by Todd and Patricia Brown who operate the Casa Grande Trading Post, another must-stop if you're in town. Everything from old bottles to odd rocks and trinkets, and of course turquoise mined from their mine, await you. Got kids? Stop by their petting zoo and feed the goats, llama and chickens, but wash your hands afterward. Goats have been known to roll.





Highlighted Event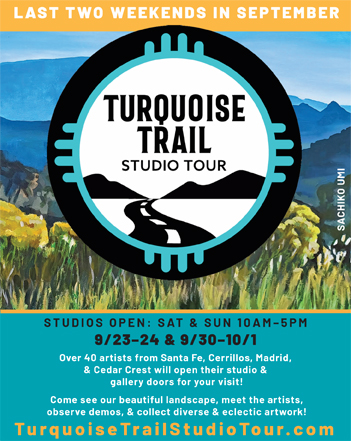 Upcoming Event
Everyday between Jan 1 - Dec 31
Independent, non-commercial, listener-supported, volunteer-run, freeform, community radio from Madrid, NM!
Event details »
View all events »