About Us
Stops & Shops
Partners





NM Public Lands Info Center
In The News
Exploring the Turquoise Trail
July 27, 2009
Posted on ItchyFeetTraveler

If you're in a hurry to go from Santa Fe to Albuquerque, then take Interstate 25. You'll arrive in just under an hour with plenty of time to catch your plane, attend your business meeting or catch an early dinner. On the other hand, if you're not in a rush and want to really get a sense of what makes New Mexico the Land of Enchantment, then take the Turquoise Trail (Route 14), one New Mexico's 26 historic Scenic Byways. The distance is about the same on both routes. But I found the combination of rolling hills, grassy prairies, red sandstone rock formations, breathtaking mountain scenery, old mining towns, and interesting people I met along the route made me wish that the Turquoise Trail went on forever.

In my recent drive southbound from the Santa Fe high country to the Albuquerque desert, I had the luxury of time so I decided to take the 52 mile Turquoise Trail. Today the trail is a paved two lane highway, but it follows the same dusty route used by Native Americans, Spanish and Confederate soldiers, miners, missionaries, and other early pioneers as they traveled between Santa Fe and Albuquerque. Rita Simmons, an award winning artist, named the trail in a 1953 Albuquerque Chamber of Commerce contest. For her winning entry which recognizes the rich turquoise deposits found in the 19th century near the northern end of the trail, Rita won a set of luggage.

I stopped several times during the trip so it took the better part of a day to complete and I enjoyed every minute of it. In the stories that follow, I will describe my experiences, some of the sites that I saw and a few of the people I met along the Turquoise Trail.

My adventure began in mid-morning when I took the Route 14 exit off of Interstate 25 just west of Santa Fe. The high country (7,000 feet/2,134 meters) scenery consisted of pinion and juniper trees, desert grasses and high desert sage brush. Rising in the distance were the Cerrillos Hills, the site of possibly the oldest turquoise mines in North America, first worked by Native people at least 1000 B.C. then later by Spanish, Mexican and American miners.
Click here for original article
Highlighted Event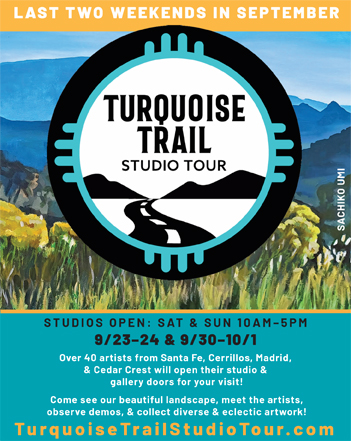 Upcoming Event
Every weekend between December 2-23, 2023
December Holiday Activities on weekends through Christmas. The Madrid Christmas Parade along Main St (Hwy 14) is on Dec. 2 at 4PM.
Event details »
View all events »